What technology is best?
What factors really matter?
How long can a solar system last?
Polycrystalline vs Monocrystalline Solar Panels
95% of solar panels installed world wide utilise solar cells made out of silicon.
The silicon comes in two main types being monocrystalline and polycrystalline.
Poly is blue and mono is black.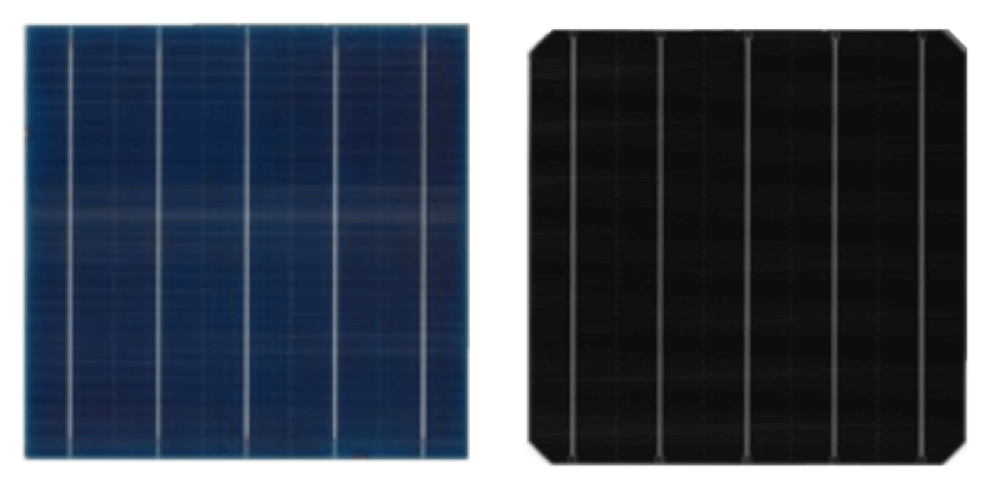 Both are very suitable for use in Australia.
Over time they have battled away for supremacy in market share.
Polycrystalline takes up more roof space, doesn't look as good but it costs less.
Monocrystalline takes up less roof space, looks great but costs more.
As the price gap narrows, people then flock to monocrystalline as they find value in the extra cost given that less roof space is taken up.
The average 60-cell polycrystalline solar panel is a 275W solar panel. The average monocrystalline solar panel is a 300W solar panel.
The more expensive 60-cell monocrystalline solar panels can be as high as 360 Watt.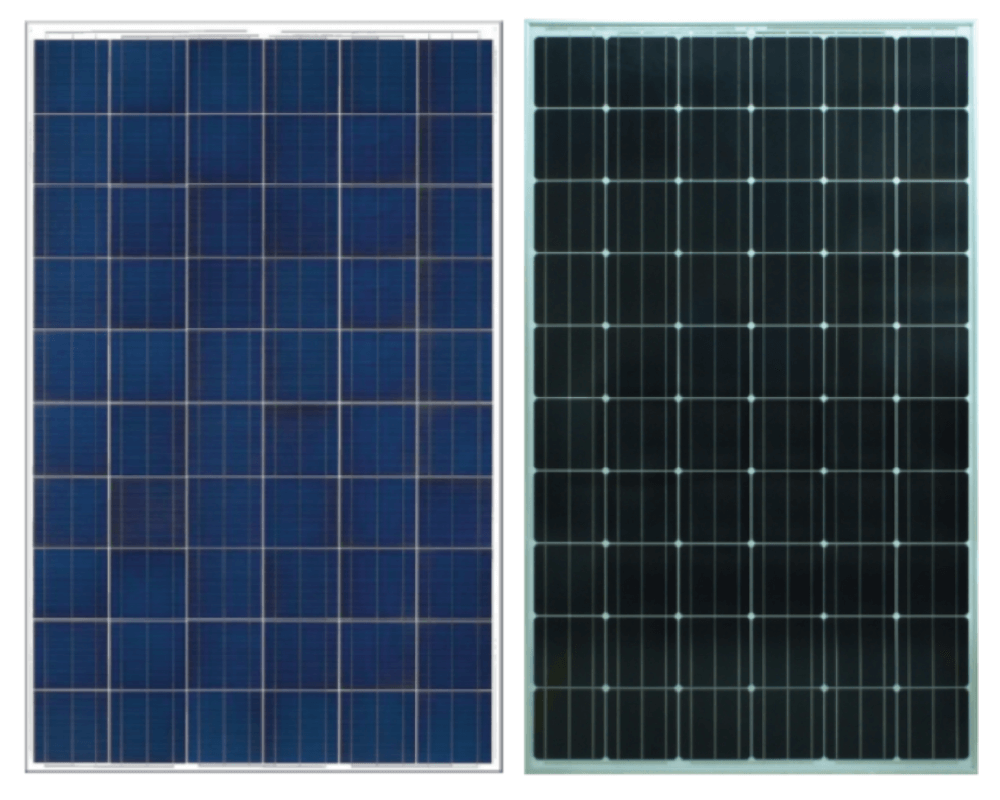 Poly cells (left) are square whereas mono cells (right) are pseudo square.
Polysilicon cells are made differently to mono cells.
Poly cells are made by pouring molten silicon into a mold, letting it solidify and then slicing it into wafers with a diamond saw.
Mono cells are made by pulling a single crystal out of a molten silicon and as it is pulled, it naturally is formed as a solid round. It is then sliced into wafers with a diamond saw.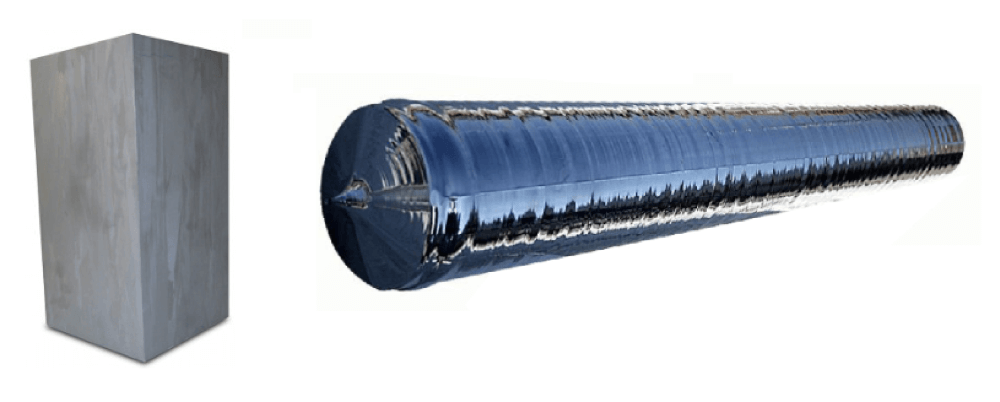 The ingot is round which does not fit on a square piece of glass so well. So the edges are cut off to try and make the cells as square as practical without throwing away too much silicon.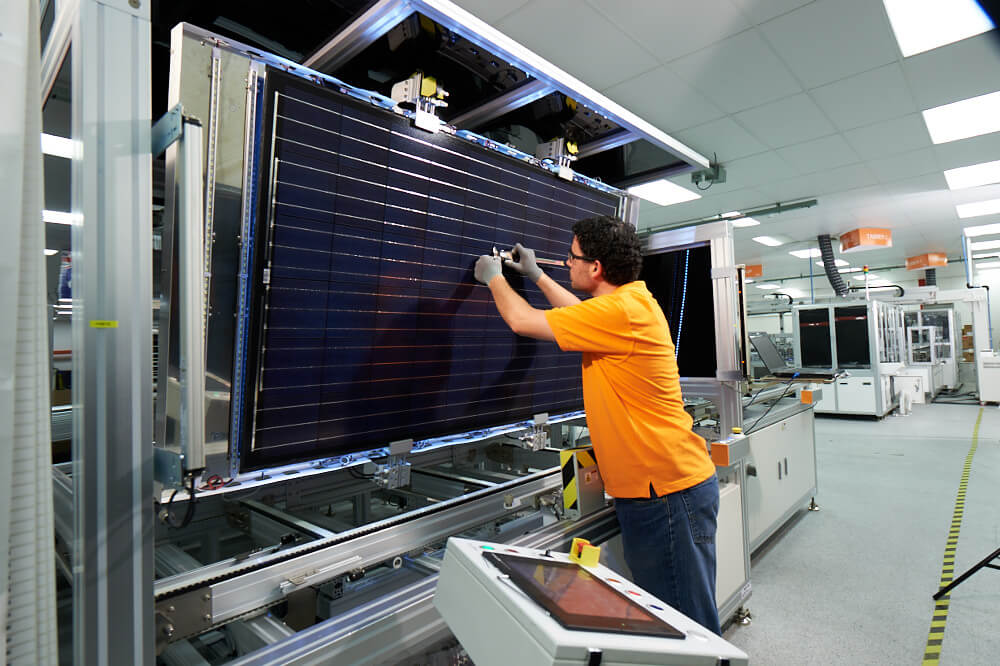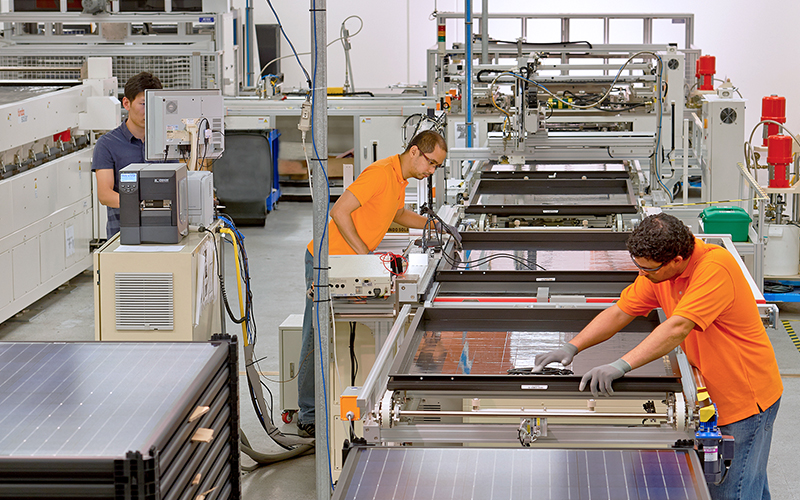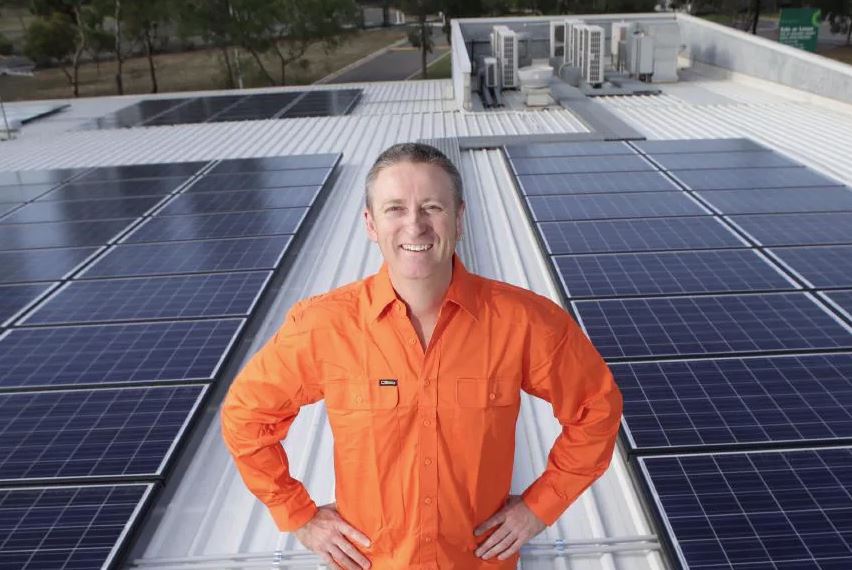 What are the critical components of a long lasting solar panel?
The longevity of a solar panel has a lot to do with the quality of materials and components used in the solar panel, how it is manufactured and how it is shipped and handled by the installer.
The components of a solar panel are: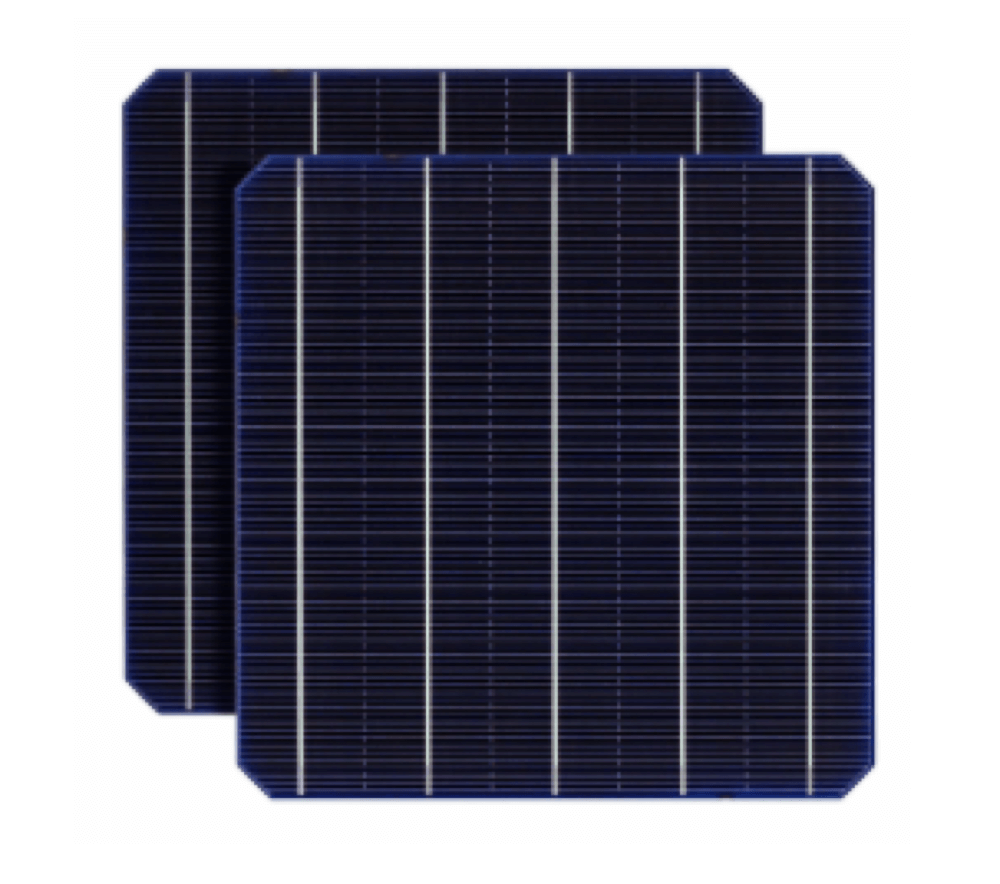 The solar cell
Solar cells are generally tested and sorted at the solar cell factory for power output and mechanical condition. The more power a solar cell generates, the more expensive the solar cell is to buy.
Cheaper solar cells can be shipped with cracks which can find their way into a solar panel leading to early panel failure.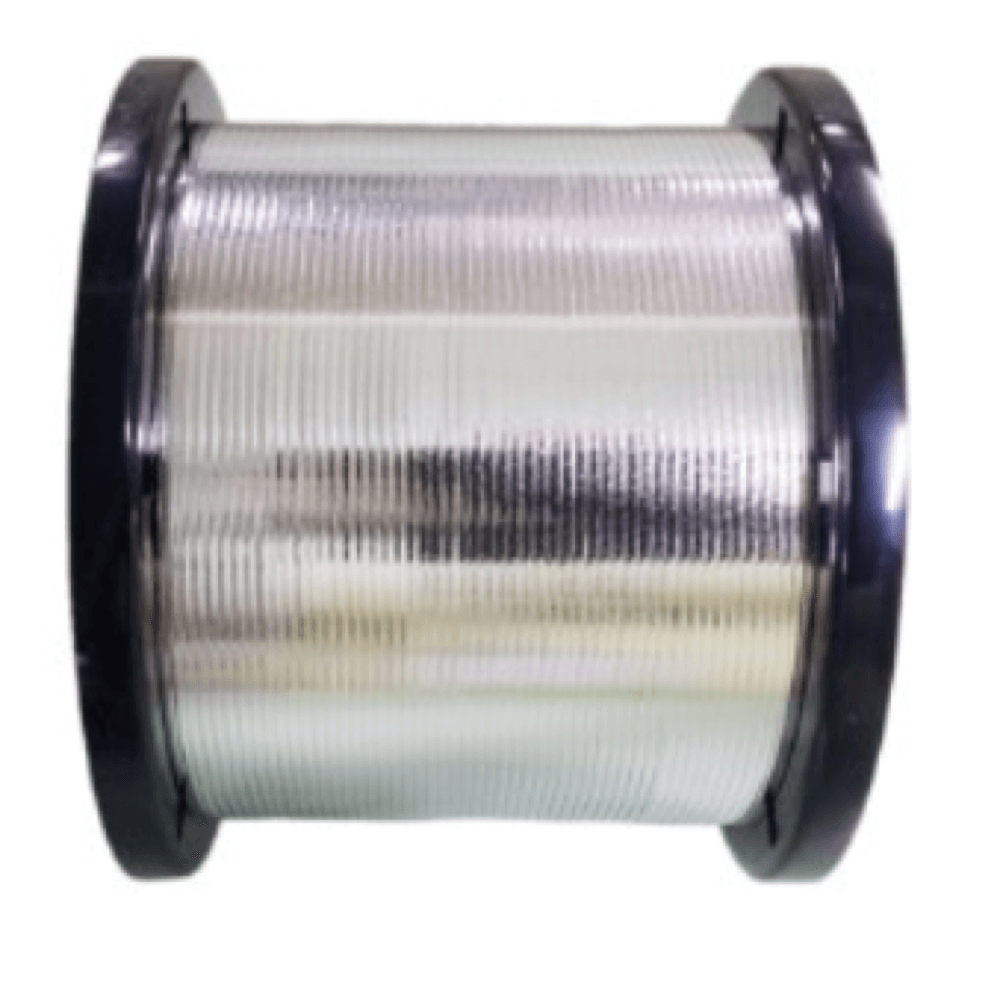 Ribbon
Thin ribbon is used to electrically connect the 60 solar cells in a solar panel together.
The solar ribbon is generally 1mm wide and made of copper.
The ribbon is soldered to the front and back of a solar cell.
A 60-cell solar panel has around 50 metres of ribbon in a single panel.
It is extremely important to solder the ribbon to the cells properly and with 50 meters of soldering to do per solar panel, it is always best for this to be an automated process using a machine rather than a person.
Glass
Solar glass is usually heat treated or tempered. It is 2.8mm to 3.2mm in thickness and is low iron glass. This allows as much light through as possible.
Glass is usually coated with an anti-reflective layer to help get more photons onto the solar cells however this coating can sometimes wear off after a few years with cheaper glass.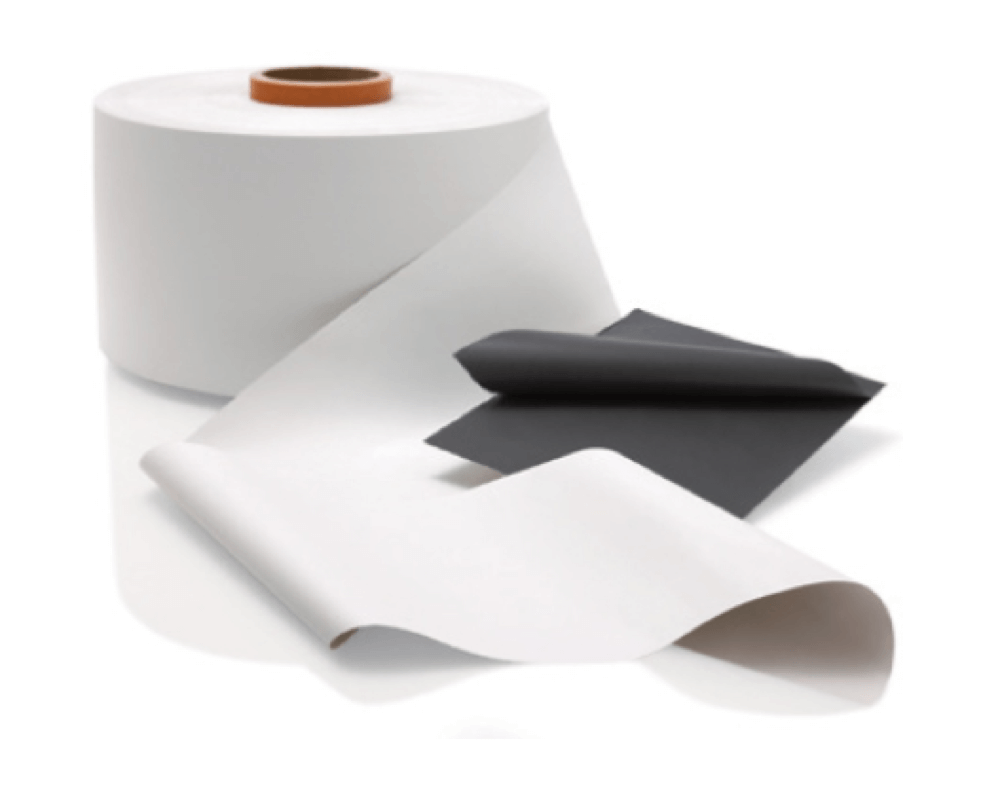 Back sheet
The back sheet is the back of the solar panel. It does not offer much mechanical protection to the delicate solar cells and makes the back of a solar panel vulnerable to damage.
It keeps moisture out of the solar cells and needs to last 25+ years.
It needs to be packed with UV stabilisers otherwise it can discolour, turn brittle, let moisture in and kill the solar panel.
It has a job to reflect the photons of light back on the solar cell increasing the overall space efficiency of the solar panel.
EVA Encapsulant
The EVA holds the solar panel together. It sticks the cell to the glass and the cell to the back sheet.
There are two layers of EVA in a solar panel. One between the glass and cell and one between the cell and back sheet.
Given it sits between the glass and the solar cell the EVA needs be super transparent for the entire life of the solar panel.
It is usually packed with UV stabilisers to give it a 25+ year life.
Its longevity is also highly dependent on the lamination process in the solar panel factory. The lamination process during manufacturing needs to be carefully controlled and cannot be rushed otherwise the EVA will not properly cure and prematurely fail.
Frame
The frame is nearly always made out of aluminium.
It generally has a thickness of between 30mm to 40mm.
Edge Seal
Edge seal is a silicon seal that sticks the frame to the solar panel.
It also plays an extremely important role in sealing the edge of the exposed EVA and prevents moisture from getting into the solar panel.
The edge seal can also be achieved with double sided tape, however this is not considered to be as good a long term edge seal as silicon.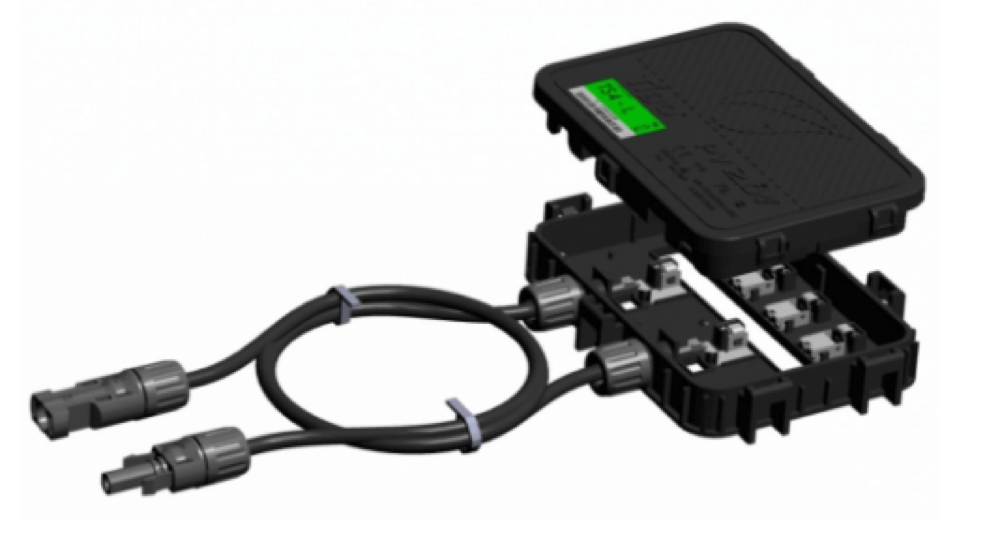 Junction box
A junction box is where the electrical connection for the solar panel is made.
Junction boxes also house diodes which help give solar panels some basic shade protection.
They are generally made of plastic and can be mechanically joined to the solar panel with either silicon or double sided tape.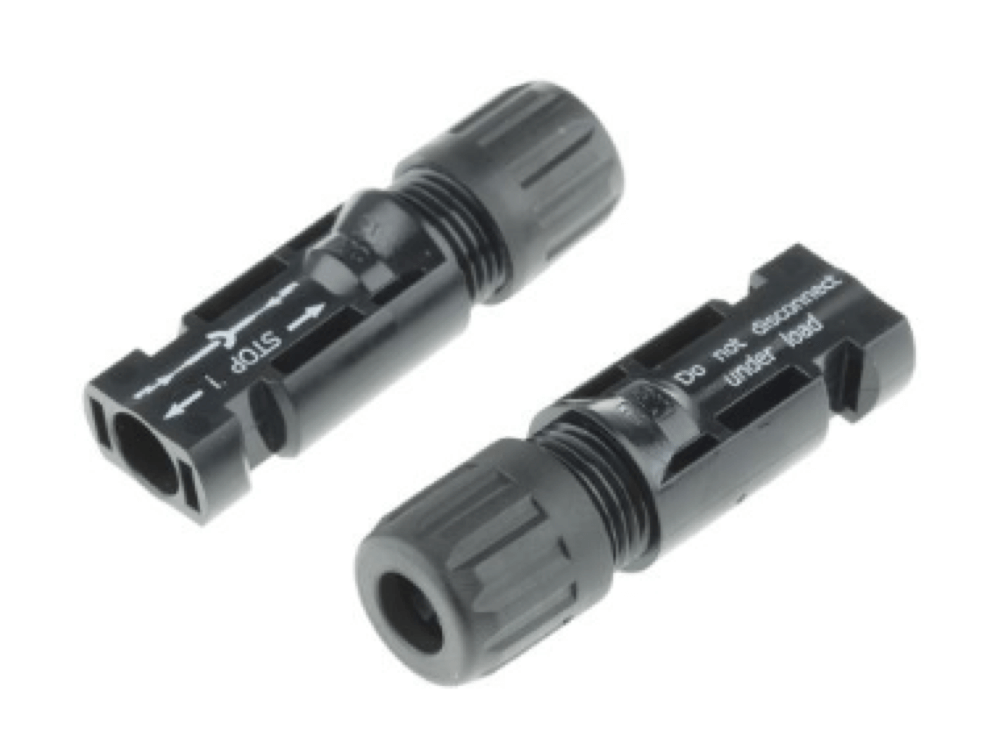 Connectors
Connectors are used to connect solar panels to each other electrically.
They are a failure point in the solar panel and cheap connectors can also be a fire risk.
They are moisture and dust resistant.
Manufacturer
A manufacturer plays a critical role in the quality of the solar panel. The important parts of the manufacturing process are:
Soldering – connecting the 50m of electrical ribbon used in a single solar panel together.
Lamination – ensuring the lamination process is highly controlled and that the EVA is cured properly.
Mechanical handling – ensuring the solar cells and panels are treated and handled like delicate eggs along the entire production line.
Electroluminescence testing – ensuring the solar panel leaves the factory with no micro cracks or other defects.
Installer
An installer can take a perfectly manufactured solar panel and then destroy it with rough handling.
Never walk on the panels. Never touch the back of the solar panel. We have seen installers walk on the back of panels, or put tool boxes on the back of solar panels which will crack the solar cells and lead to premature panel failure.
Smart Panels
Smart panels are solar panels that come factory fitted with an optimiser or a micro-inverter.
Solar Warranties
Solar panels usually come with two distinct warranty types:
1. Product warranty
2. Performance warranty
A product warranty is for the mechanical and electrical functionality of the solar panel. It is concerned about the panel not falling apart, moisture getting into the panel, the electrical connections inside the panel working properly.
A product warranty is usually 10 years however some manufacturers are now providing a 25-year product warranty.
A performance warranty is related to the power output of the solar panel. It warrants that the power of the solar panel is of a minimum percentage up to 25 years.
It is usually an 80% 25 year warranty.
There are some different approaches. Some companies give 90% for the first 10 years and then 80% for the remaining 15 years. Other companies give a linear degredation over the 25 years. Linear degredation is not really a critical factor in determining which warranty is better.
So what happens if a panel with a 10-year product warranty stops working after 20 years? Can this be a claim under the performance warranty?
From the manufacturer's perspective, the product stopped working due to an electrical fault inside the solar panel. The electrical fault is a product problem and is outside the 10-year product warranty.
From the homeowner perspective, the panel has stopped working and the performance is warranted for 25 years.
What direction should I point my solar panels?
Solar systems in Australia have always been installed facing north as often as possible.
A north facing solar panel will receive more solar energy from the sun than an east or west facing solar panel, and will hence generate more solar energy.
Here is what a 5kW solar system will generate on a 20 degree pitched roof when facing different directions:
| | | | | |
| --- | --- | --- | --- | --- |
| City | North | East | South | West |
| Adelaide | 23.8 | 20.7 | 17.9 | 21.1 |
| Brisbane | 23.4 | 21 | 18.1 | 20.6 |
| Canberra | 23.4 | 20.5 | 17.4 | 20.5 |
| Darwin | 27.3 | 25.5 | 23.2 | 25.4 |
| Hobart | 18.8 | 16.1 | 12.9 | 16 |
| Melbourne | 19.9 | 17.2 | 14.5 | 17.6 |
| Perth | 25.3 | 22.4 | 19.1 | 22.4 |
| Sydney | 22.2 | 19.1 | 16.2 | 19.3 |
kWh/day based on a 5kW solar system mounted on a 20 degree pitch
Facing panels east means you get your peak power early. Facing them north means you get your peak power at midday. Facing panels west means you get your peak power in the afternoon.
What's a tier 1 panel?
Tier 1 solar panels is an industry term or jargon.
It refers to a list of solar panels published by the finance company Bloomberg New
Energy Finance.

It is an unfortunate terminology as it does not guarantee any level of quality and is generally more about volume.
It's kind of like saying a high volume car manufacturer like Great Wall is tier 1 because it produces more cars than Porsche.
To make it on the Bloomberg list, a solar panel manufacturer must have been used on at least six projects, on at least 1.5 MegaWatt in size, during the past two years that have been financed by at least six different banks.
Bloomberg does not undertake any audit of manufacturing facilities or product for those companies it includes on their list.
Micro-inverters and Maximisers
A conventional inverter has 20 or so solar panels connected to a single inverter.
A micro-inverter has one inverter per solar panels. So a 20 panel micro-inverter system uses 20 inverters.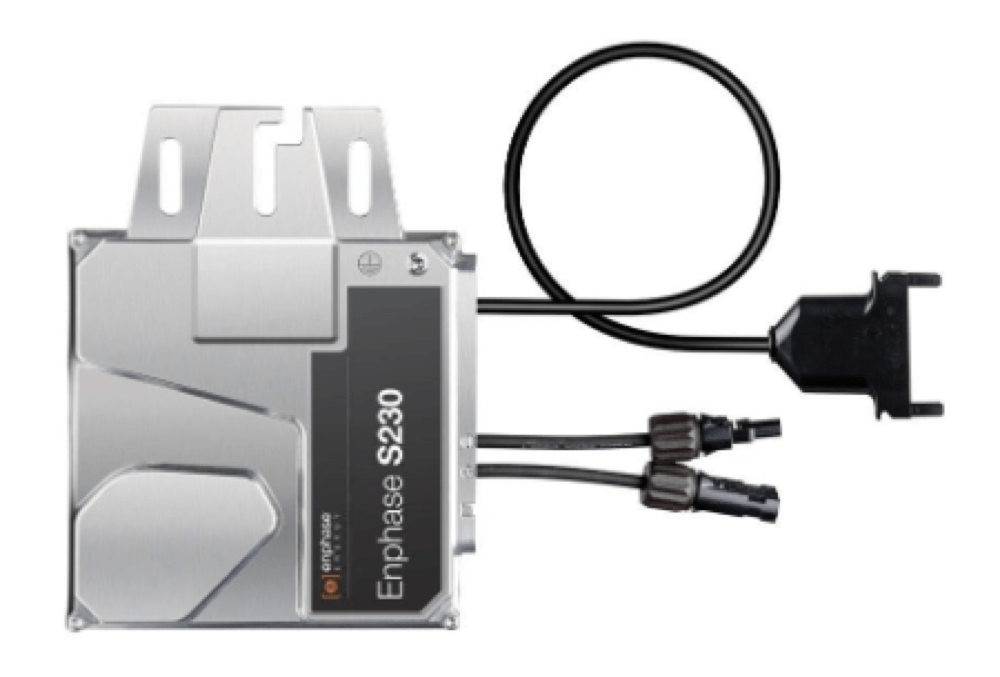 So what are the pros of microinverters?
1. No single point of failure. When a regular inverter breaks down, you lose the entire solar system sometimes for weeks or months. When a micro-inverter breaks down, you can still lose an inverter for weeks or months, however it is only a single inverter. So for a 20 panel system, that means you only lose 5%.
2. Monitoring. You are able to monitor a solar panel individually which is so important for fault finding. When you have a sea of solar panels on a roof, being able to pinpoint an issue can save you a lot of money in call outs and service fees.
3. Safety. Micro-inverters are not connected in series, meaning that the maximum system DC Voltage is the Voltage of a single panel. They are instead converted to 240 V AC at the solar panel and then connected in parallel.
4. Shade Protection. When a conventional solar system with a single inverter has a panel shaded, the single shaded panel can affect the entire series string of panels. With a micro-inverter system, the panels are connected in parallel. So if a solar panel is shaded, it does to effect its neighbouring panels.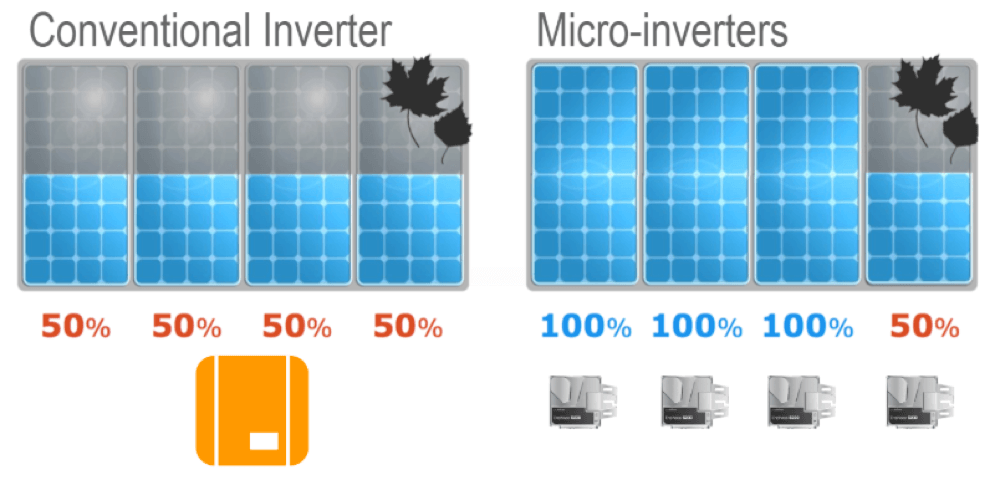 5. Design Flexibility. Having each solar panel individually controlled, means that solar panels are able to be installed anywhere on a roof facing different directions and mounted on different slopes. With a conventional solar system, you need to ensure solar panels connected in a series string are mechanically touching each other, are facing the same direction, have the same power output and are mounted at the same slope. If one panel underperforms in a series string, it effects all panels in its series string.
6. Expandability. You can expand a micro-inverter system one panel at a time. The extra panel can be different power, shape, technology. Its output will not affect its neighbouring panels.
And what are the micro-inverter cons?
1. Micro-inverters cost more – a lot more!
2. More stuff can go wrong with micro-inverters. For a 20 panel system, you are 20 times more likely to have inverter issues compared to a single inverter.
Who makes micro-inverters?
There is really only one micro-inverter worth mentioning here and that's Enphase.
Enphase is a publicly listed US company with a Silicon Valley HQ and has stood the test of time. They have had many competitors come and go but Enphase carry on doing what they are incredibly passionate about.
They are trailblazers and pioneers in micro-inverters.
What are solar optimisers?
Solar optimisers are like a hybrid solution of micro-inverters and conventional inverters.
While micro-inverters have the optimisers and inverter built inside a single small inverter box, an optimiser system has a separate optimiser on the roof with the panel, and then a separate single large inverter mounted at ground level. The single inverter is able to take multiple optimisers.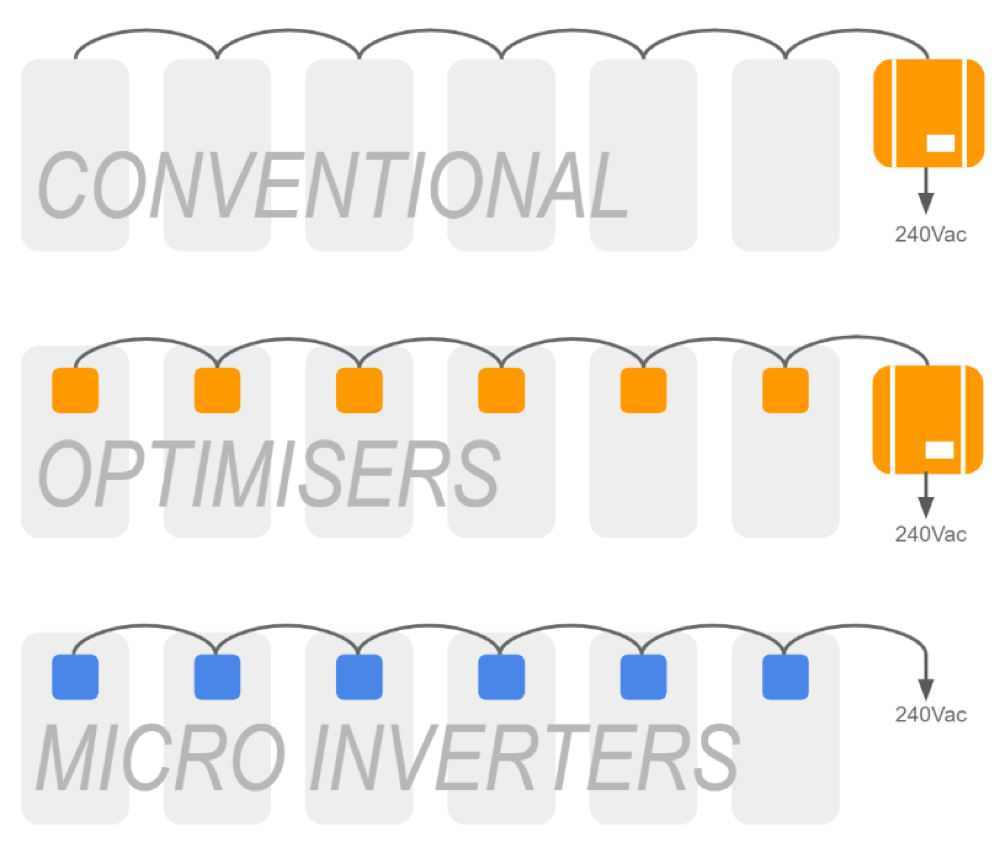 What are the pros of optimisers?
1. Monitoring. As per micro-inverters
2. Safety. Although still running at a higher Voltage, optimisers have inbuilt auto disconnection adding an extra layer of safety when compared to a conventional system.
3. Shade Protection. As per micro-inverters
4. Design Flexibility. As per micro-inverters
5. Expandability. Not quite as flexible as micro-inverters as you have a single large inverter on the wall that needs to be considered when expanding. When it is full up, you need to add another inverter.
And what are the micro-inverter cons?
1. Optimisers cost more than conventional systems but generally less than micro-inverter systems.
2. More stuff can go wrong as a 20 panel system would have 20 optimisers on the roof and they do fail occasionally.
3. They still have a single point of failure with the single larger inverter on the wall.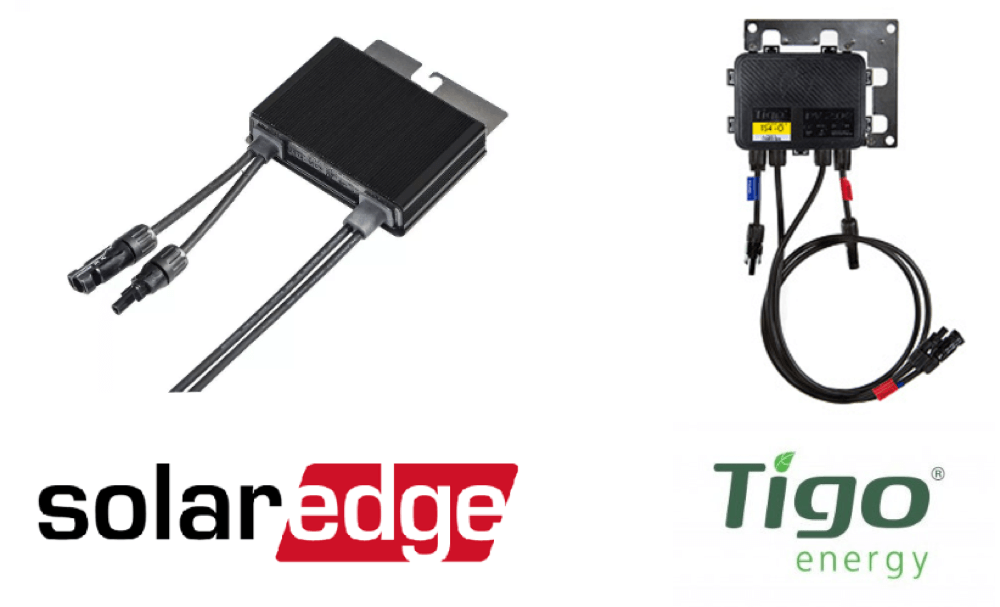 Who makes optimisers
There are two main manufacturers of optimisers:
1. SolarEdge make both the optimiser and inverter. SolarEdge optimisers can only be used with their own SolarEdge inverter. They are more "Apple like" in that way.
2. Tigo make only the optimiser and are compatible with almost any inverter. They are inverter agnostic. They are more "Microsoft like" in that way.
| | | | |
| --- | --- | --- | --- |
| Inverter Type | Conventional | Optimisers | Micro-inverter |
| Flexibility | * | ***** | ***** |
| Monitoring | * | ***** | ***** |
| Safety | * | *** | ***** |
| Shade | * | ***** | ***** |
| Expandability | * | *** | ***** |
| Price | ***** | ** | * |